The core team behind Apostrophe, along with the strong community of supporting developers from around the globe continue to meet roadmap milestones for A3, the latest version of Apostrophe. Within the latest Apostrophe release, there are a few features that will excel developer and team productivity in terms of site management. Continue reading below for the very latest. 
Batch operations
Apostrophe 3.8.0 now includes support for batch operations on pieces. With this new feature, you can now select many documents at once to perform batch operations on. Included with this release is a simple batch archive/restore function, but A3 makes it easier than ever to configure your own operations and insert them into the manager menus of your pieces.
Batch Operations released for A3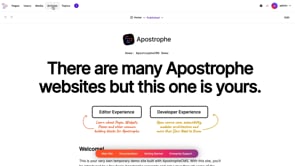 We've tried to make it super easy for developers to set up their own custom batch operations, so please check out the documentation and let us know how it goes in Discord.
Import / export
In addition to the new core support for batch operations, we are also sharing our beta releases for the new importer and exporter modules.
These were oft-used extensions from Apostrophe 2 that have received some improvements as they made their way into A3. With the export extension, for example, we were able to hook this right into our new batch operations API so you can select a sub-set of your documents for exporting.
Alternatively, with the import extension enabled, it's now just a few clicks to create a collection of documents from a CSV file.
Importing and exporting can both be installed and configured to work on specific modules in your project. You can learn more about installing and setting these up at the importer readme and the exporter readme.
Continued progress on the roadmap
In this most recent release, in addition to batch operations, and the import / export modules, we have also rolled out an update to the open-graph module for A3, as well as shared additions, fixes, and changes. These updates, and all product related notes can be found on Github Discussions. To see all that is currently in the works or planned for Apostrophe, check out our product roadmap.
Get involved
We are always on the look out for feedback from the community. Please find us in Discord or open a ticket in GitHub if you have any issues or recommendations to share.