Thirstie Improves Onboarding Speed by 10x with Apostrophe Assembly
Thirstie is an ecommerce company connecting alcohol beverage brands directly with consumers. Founded in 2014, Thirstie is a pioneer in the e-commerce market within beverage alcohol. It is the best-in-class white label solution with its proprietary technology, national retailer network, and on-demand delivery options. 
Headquartered in New York, NY, Thirstie helps alcohol beverage brands reach 100 million adult consumers via its fulfillment network in over 40 geographic areas nationwide with compliant branded e-commerce solutions. While other online marketplaces focus on customer acquisition for themselves, Thirstie puts the power of first party consumer data in the hands of the brands they service. Furthermore, Thirstie's primary goal is to help alcohol suppliers increase consumer engagement and adoption through branded digital storefronts that deliver compliant end-to-end customer experiences in a highly regulated industry. 
To Buy or To Build? 
When Thirstie began the process of looking for a CMS solution to enhance their proprietary e-commerce API, they faced a decision of whether they should build the solution themselves or outsource. "Outsourcing wasn't the most obvious choice given there are numerous complex regulatory requirements of the beverage alcohol industry that many solutions may not support," says co-founder Maxim Razmakhin.
After testing their own development capabilities and researching alternatives such as Contentful, Wordpress, and Netlify among others, Thirstie identified ApostropheCMS as the perfect match for the problem at hand.
Apostrophe offered an attractive balance of flexibility and robustness with their CMS solutions. Additionally, the Apostrophe team immediately understood Thirstie's needs in creating a new ecommerce solution within the constraints of a regulated market. Ultimately, Apostrophe Assembly rose to the top of the pack as Thirstie's tool of choice, as it provided a cost effective, white label solution for managing over a hundred separate branded storefronts. 
Powered by Assembly
Apostrophe Assembly is a cloud-hosted, multisite low-code platform that makes managing a collection of websites easy. With Assembly, users can build their own custom CMS components and integrations, turn those into a reusable theme, and use that theme to create new sites in just a few clicks. This can all be accomplished without the hassle of multiple codebases or managing deployment and ops. Now powered by Apostrophe 3, Assembly brings speed plus an improved user interface to the process of spinning up and managing fleets of websites.
To summarize, Apostrophe Assembly offers users:
A white label experience for customers
A low technology barrier
Speed to market deployment
Component reusability
Apostrophe Assembly helped Thirstie create the world's first turnkey e-commerce platform for beverage alcohol brands, allowing customers to quickly create online stores with customizable themes. With Assembly's speed to market, design flexibility, and approvals and permissions, Thirstie was able to catapult the success of their product and dramatically scale their business.
Launching Hundreds of Storefronts with Ease
With the power and flexibility of Apostrophe's open source tech stack, Thirstie launched over a hundred branded storefronts. The entire onboarding process, from conception to having a ready-to-launch product, took less than six months. 
Now, alcohol beverage brand managers, web designers and marketers alike work with the Thirstie team to analyze the customer data generated by Apostrophe Assembly to provide unique consumer experiences.
Richard Cramer

Director of Engineering, Thirstie

If you are looking for a responsive, personable and creative partner to build something innovative, the Apostrophe team will be a match.
Thirstie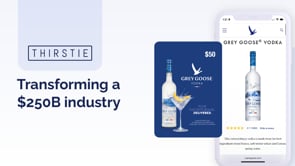 Speed to Market + Design Flexibility = Customer Benefits
Thanks to their multiple branded storefronts built with Apostrophe Assembly, Thirstie is able to showcase the range of experiences they offer consumers. Assembly also gives Thirstie the ability to spin a demo site in a matter of hours. Likewise, after securing brand assets and arranging compliant e-commerce retailer relationships, Thirstie can launch a new branded storefront within 1 week vs months.
Devaraj Southworth

CEO & Co-Founder, Thirstie

Apostrophe Assembly allows us to launch new web storefronts for our clients in minutes, with our robust and hyper-compliant API technology pre-built. This has improved our customer onboarding speed by 10x, as we can now get new brands live faster than ever before.  Apostrophe has transformed our sales process and our customer's speed to market.
In finding a CMS solution with Apostrophe, Thirstie's customers have experienced numerous benefits, including:
Multi-tenancy support
Custom theme development
Flexible choices for render framework and style palette
Responsive support and individualized attention
Over time, Apostrophe has become intertwined with Thirstie's daily existence. With drag and drop in-context editing, easy to spin up new sites, and one dashboard to oversee it all, Thirstie manages its many websites with ease. Most importantly, ApostropheCMS solutions allow Thirstie more time to focus on other aspects of their business.
Leading the Way with Revolutionary Solutions
Thirstie continues to lead the way in building solutions that drive online consumer adoption for alcohol brands. They recently developed the first alcohol-branded gift card product in the industry.
Thirstie also offers a first-time, innovative solution allowing brands to own their own consumer data. Within an easy-to-use dashboard, this solution helps brands harness the transactional, demographic, and attribution data of their consumers.  
In just two years of collaborating with Apostrophe's team and utilizing Apostrophe Assembly, Thirstie experienced explosive growth as a business. They gained the ability to scale quickly and with ease. Moreover, Apostrophe will continue to be a trusted partner in bringing Thirstie's revolutionary solutions to life.
If your company manages multiple websites and you want a simplified, easy-to-use site builder that creates beautiful, functional websites, we would love to help you see if Apostrophe Assembly could help. Schedule your free personalized demo of Apostrophe Assembly by filling out the form below. We'll book a time to show you how Apostrophe Assembly can reduce your development timeline and support your company's growth.