The demand of restaurant websites have changed, as have the diners and establishments themselves. According to Upserve, 90% of guests research a restaurant before dining, and 57% of that traffic is direct to the restaurant's website. It is not merely the menu that these diners are searching for, they are also looking for photos, pricing, location, reviews, events and more. A basic 5-page website will no longer provide a guest with the same wow-factor that represents the restaurant. More is demanded, and demand must be met.
It is critical that a restaurant's digital presence not only showcases the restaurant in the best possible light, but meets customers where they are, not just in physical location, but also in comprehension. This includes language and customs, day and time formatting, as well as menu offerings and meal breaks.
In this post, we'll dive into the benefits of localization for restaurant websites and provide a few examples specific to the food and beverage industry.
What is localization?
Localization, often abbreviated as l10n, is the process of adapting the user interface and website content for different groups of people (usually based on language and country). This can include text translation, date formats, content variation, and much more. In contextual terms for restaurants, localization would influence the language translations for menu items, currencies used for showing pricing, format for hours of operation, and much more.
When discussing l10n, it is helpful to understand a couple of additional concepts. First is locale. A locale is a content classification used to associate certain content and l10n settings, such as 'English,' 'Spanish,' 'United States,' or 'Canada.'  Second is Internationalization, often abbreviated as i18n, which refers to the whole system that supports localization. We can think of i18n as the tools and l10n as how people use them to make content more accessible to different peoples. For more term definition, with respect to Apostrophe, visit our localization terms glossary here.
Localization has long been a priority for Apostrophe. Understanding that the digital world is a global one, it is important to empower users and make content accessible to visitors. So much so that the core team prioritized localization as one of the first main elements to be migrated to the latest release of Apostrophe 3. A brief example of how localization for Apostrophe 3 is applied, view the video below.
A3 Localization - Hello world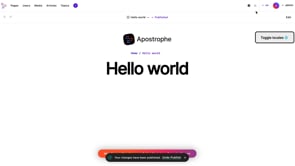 Localization for restaurants - with examples
l10n can be applied to any business, but that application and the objectives of the users varies. Here we identify some of the top areas that drive the need for l10n for restaurant websites.
Language / text translation: As it would be for most businesses, this is the top consideration for restaurants as well. The restaurant menu is the heart of the restaurant offering. By delivering the menu in a language native to the site visitor, they can easily decide if it suits their taste without relying on translation or inferences. The same goes for reviews. Previous diners' glowing reviews highly influence future diners. Having these reviews translated into the language of choice of the site visitor provides the influencing benefit of these reviews to prospective future diners.
Currency: A wholly different language, but one of high importance is currency. A restaurant deploying a localized digital experience will want to carry over the translation of currency to the website. Consider a travel destination with an abundance of international weddings booked at the location. Providing catering menus in the desired language (both text and currency) provides pricing clarity, and this act of building trust may win over the future bride and groom from a competing, single-language establishment. This strategy may also help restaurant SEO strategies when trying to gain site traffic for "destination weddings for under £10,000." While extending localization to currency might be an exceptional case for restaurants, it is possible for the need to arise. 
Time/date format: Along with menu offerings, reviews, and currency notations, the hours of operation are critical to providing key information to future diners, and this too must be considered in a l10n application. Consider the locale's preference of a 12-hour clock over a 24-hour clock; are am and pm suffixes used; how is the date displayed? This will help avoid confusion when a future diner is making a reservation and understanding that the date format for February 23rd may be 02/23 vs 23/02.
Legal terms: The need to apply differing legal terms to a restaurant website can be found in LTOs, sweepstakes or certain campaigns. For example, if a restaurant has locations in different countries, a promotional offering featuring an inclusive wine pairing may drive additional traffic to the restaurant. However, the same promotion in a sistering region may land the restaurant in legal hot water, considering promotion of alcohol is not universally accepted.
Web management: Oftentimes restaurant websites are built and delivered to the restaurant management team to maintain and update. Having the user interface in the language of the restaurant operators empowers their ability to manage, update and react in the native language of the website. This allows for speedy updates, and reduces aggravation and friction for the management team users to easily navigate and complete their tasks successfully.
Apostrophe Assembly for restaurants
As a website builder platform, Apostrophe Assembly takes the powerful functionality of ApostropheCMS, including l10n, and extends the platform to a low-code digital experience management tool for one or many websites.
Apostrophe Assembly is a dynamic tool for restaurant groups to manage their digital experiences. Kimpton Hotel & Restaurant Group, a subsidiary of InterContinental Hotels Group, found that Apostrophe Assembly was the right fit for several reasons. In Apostrophe Assembly they found one interface to edit more than 60 restaurant websites, each with its own distinct brand and visual experience. They are also supported by integrations specific to the food and beverage industry, such as menus, reservations, email marketing, asset libraries, and language translations. 
To learn more about the use case of a restaurant group, read the Kimpton Case Study here. 
What's next for restaurant websites?
Who knows? Perhaps the next big craze will be chef-inspired, downloadable recipe cards, available in multiple languages and measuring systems (seriously, please don't make me convert ml to tsp)! With localization, this would be an easy trend to jump in on. And with multisite, spinning up Chef's recipe site can happen in no time, allowing Chef to spend her time in the kitchen creating the next feature of the week.
Fast and responsive websites can help restaurants keep pace with the latest trends, or pivot business operations when the world turns upside down. Giving the restaurant the keys to their digital storefront allows them to move at the speed of the business, from changing in-person dining to take-out only, or reopening doors and presenting a new entertainment calendar. Being able to communicate these modifications to their customers, where their customers are (and in their language) is an advantageous component to restaurant digital success.
To learn more about Assembly + Localization, and if your restaurant could benefit with a refreshed approach, schedule a personalized demo with an Apostrophe team member.